BASKING RIDGE, N.J. and HAUPPAGUE, N.Y., May 13, 2020 /PRNewswire/ — Micro Labs USA, Inc. and Saptalis Pharmaceuticals, LLC. are strengthening their association with the launch of Metformin Oral Solution in the US market.
Metformin Oral Solution is indicated as an adjunct to diet and exercise to improve glycemic control in adults and pediatric patients 10 years of age and older with type 2 diabetes mellitus.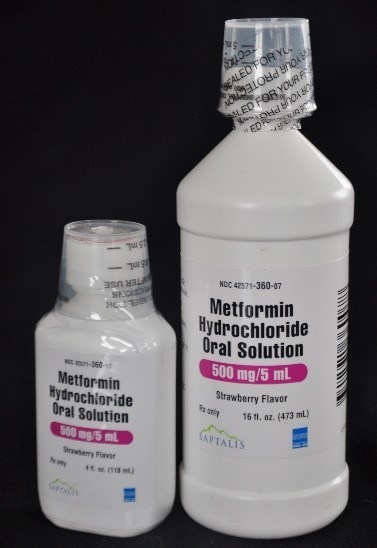 (PRNewsfoto/Micro Labs USA)
The product is the only generic version of Riomet®, Sun Pharmaceutical Industries, Inc. which in 2019, had annual sales of $15M (IQVIA). Saptalis was the first generic company to file the ANDA containing a paragraph IV certification and successfully challenged the patent for Riomet®. The US FDA granted approval to Saptalis with 180-day marketing exclusivity.
"After the successful launch of Clobetasol topical solution, Micro Labs is once again very excited to collaborate with Saptalis on the second product launch within three months," said Ashok Jain, Director of Micro Labs USA, Inc. "This is a testimony to our growing association and we look forward to additional launches in 2020," added Mr. Jain.
Dr. Polireddy Dondeti, President & CEO of Saptalis said, "Saptalis is proud to offer patients with diabetes a much-anticipated generic equivalent of Riomet® Oral Solution. Metformin is considered the first line of treatment for managing Type 2 diabetes, and is the most widely prescribed oral medication for millions of patients. We are confident that the introduction of an affordable generic liquid formulation in two packaging sizes will help to expand the use of the medication in the growing patient segments with difficulty swallowing, including geriatric population. We value our partnership with Micro Labs and anticipate to strengthen it in the near future."
About Micro Labs USA, Inc. Micro Labs USA, Inc. is a wholly owned subsidiary of Micro Labs Ltd., which was established in 1972, and is today one of the leading Pharmaceutical companies in India, ranked among the top 20. Micro Labs is an integrated Pharmaceutical Company having its presence in the entire value chain from Research & Development, Manufacturing and Marketing of both active ingredients and formulations. With a sharp focus on quality affordable medicines, Micro Labs USA markets its full range of oral, ophthalmic and injectable formulations on its own, as well as by forging strategic partnerships. Mr. Jain added that over the last four decades, Micro has been relentlessly pursuing its vision of serving healthcare needs in multiple countries and today building on its legacy of success, Micro enters a new chapter in the US through this collaboration with Saptalis.
About Saptalis Pharmaceuticals LLC. Saptalis Pharmaceuticals, LLC is a rapidly growing pharmaceutical company specialized in development and manufacturing of generic and branded products in liquid and semi-solid dosage forms. The Company is focused on development of complex formulations of sterile and non-sterile medicines, including nanosuspensions and microemulsions. In addition to the diverse pipeline of generic products, the Company is developing innovative products, such as improved formulations of existing medicines to address unmet patient needs. Located in the Hauppauge Industrial Park on Long Island, NY, Saptalis has fully equipped Research & Development Laboratories and state of the art commercial scale manufacturing facility designed to meet the FDA cGMP requirements.